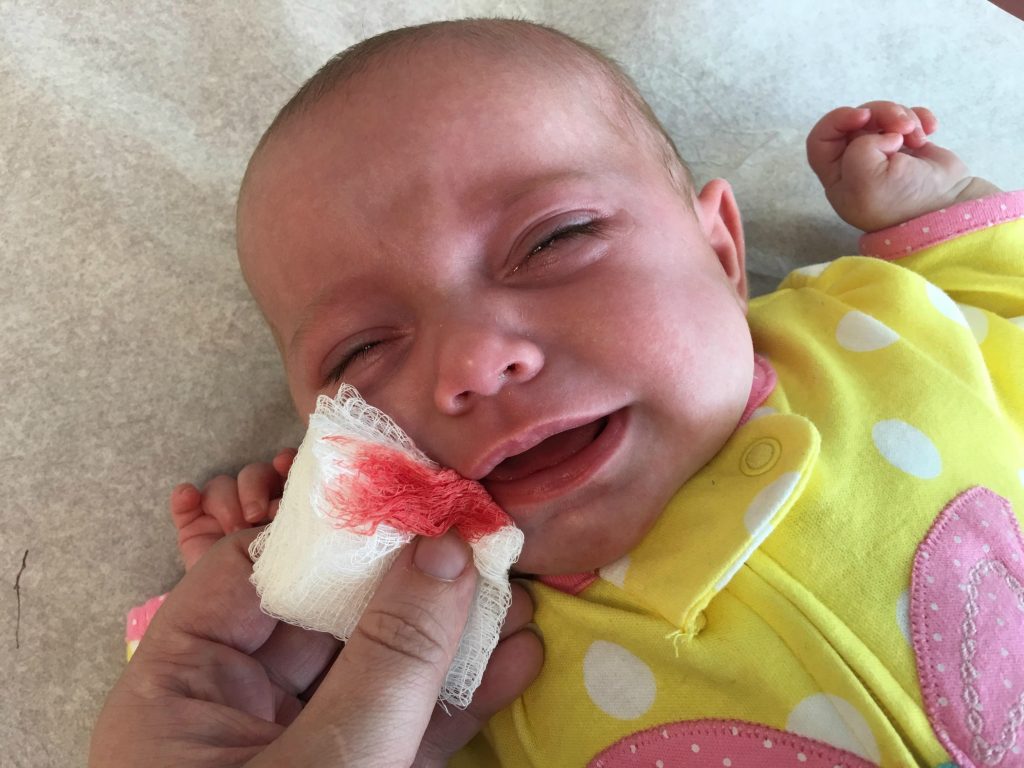 Gwendolyn and Lawson are now over four months old.  They are a tad on the scrawny side being preemies, but the doctor says they are gaining wait at the expected rate.  Still they are in the low percentile range.  Lawson is only at 2% average body weight.  I'm told that you can even go into negatives, but I'm not sure how that's possible.  They showed us a graph at the twins' 4 month appointment that showed projected growth and where each of them falls.
Other Growth
The doctor did mention that she was very impressed with the babies' development in other areas.  The way they've been babbling and grabbing at objects… Gwendolyn even flipped over right in front of her.  The visit was not a happy one though.  The babies both got shots, which is harder for me I think then it is for them.  Gwendolyn had it the worst this time, because the doctor decided to snip the membrane that had her tongue-tied.
Gwendolyn's tongue
Gwendolyn has had a lot of problems with gas that we have taken many measures to resolve, but so far we had not done anything about her tongue being tied, per the doctors recommendation.  She wanted to wait it out.  only recently did we make the connection that being tongue tied was affecting her latch and causing air to get in even with the filtered bottles we were using.  We brought it up to their doctor expecting some push back, but to our surprise she decided to perform the procedure.
Poor Gwendolyn was in so much pain.  The doctor said it was just a quick snip and there would be only a drop of blood, if any.  This was not so.  At first the doctor did show us a tissue with a small dab of blood on it.  moments later her mouth was gushing.  The doctor was quick to explain that mouths are very vascular.  I was floored.
Aftermath
I felt so bad for them when we left the office to go back home.  I wished I could take them to McDonalds, or something.  But Gwendolyn's suffering did not last long.  They had slight fevers, due to the injections they received, but they recovered.  I'm glad they are healthy and got their shots taken care of before our big trip to WDW.
More articles you might like: