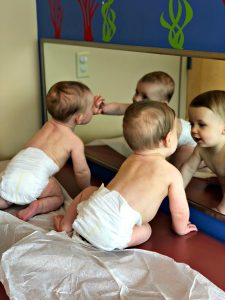 The twins had their nine month checkup.  Gwendolyn and Lawson returned to the doctors office this week and we expected them to be getting shots, which we weren't looking forward to.  When we got there, we found out the woman who confirmed our appointment had been misinformed.  I love it when they don't get shots.  it was just a checkup.
The Visit
We had questions as always that we wanted to ask the doctor.  We had discussed changing up their feeding schedule and wanted to make sure that was okay on their checkup.  And of course we just wanted to make sure that everything else was ship shape.  Lawson still has two testicles and all that.  Actually, the doctor did check that and it struck me as funny.  I'm not sure if that's something I should have been concerned about.  do babies sometimes lose testicles?  I don't know.
Everything was great.  The answers to our questions were fairly ambiguous, but we got the go-ahead to start feeding them in different increments and increase the amount of solid food they take.  Gwendolyn is only in the 5% range in height.  She hasn't grown much, but the doctor wasn't worried.  We filled out a sheet while we were there asking questions about their development.  I think they both ranked pretty well, though I haven't seen the results of the scoring.
Fun Times
Both Gwendolyn and Lawson had a good time during the checkup.  They sat on the table and made faces in the mirror and played with the rolled out paper while we waited for the doctor to come in.  Afterwards, we dressed them back up.  Lawson lost both socks and we picked up a couple of stickers on our way out.
Thanks for reading this article.  Be sure to read up on our recent travels here.