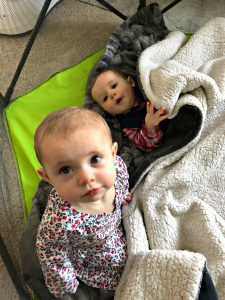 Sara and I just took Gwendolyn and Lawson to see the pediatrician for their 8 month flu vaccinations.  The nurse had a huge crush on Lawson.  She wanted to take him around the office to show him off to everybody.  When the time came to give him his flu shot, she crumbled.  She administered the shot, but only after a period of profuse apologizing.  She felt bad hurting him, because she said they shared a special connection.
Lawson Loves the Ladies
Lawson has a special connection with just about any lady he sees.  He is such a flirt.  He's breaking hearts already.  An other woman also felt a connection to him while we were on location as extra's for a local movie in Portland.  That was the first time we really noticed him flirting and enjoying the company of women.  I don't know what we are going to do with him.
Gwendolyn's Growth
Gwendolyn impressed the Dr. with her development of fine motor skills.  We were given a prescription for her eczema, but she told us not to worry about her feet.  She said because I was able to move her feet into position during her exercises, in time she will be doing it on her own as she puts weight on them.
We were also concerned about how to handle her separation anxiety.  Its really tough.  She is very attached to me specifically and prone to crying and screaming if she sees me leaving.  If I come into the room, she wants me to hold her.  It's very cute, at first, but when I have work to do, it is a problem.  There are times when the crying is so constant neither Sara nor I can concentrate.  We have tried different things like, trying to distract her with toys, or putting her in her crib and leaving her alone for a while.  She usually falls asleep within a minute or two.
We wanted to make sure we weren't doing anything that was bad for her.  And the doctor confirmed that we were on the right track.  Today, she had some problems, but overall showed improvement and was able to entertain herself and let me go about my business most of the time.
The Vaccinations
The shots were super quick and seemed fairly painless.  The twins both took them very well.  I don't think they felt to great that afternoon, though.  Their photo of the day did not go well at all.  The after effects did not last long, however and they got cool band -aids.  We also fished out a couple of St. Patrick's Day stickers that they proceeded to gobble, drool-on, and chew up before we even got through the parking lot.