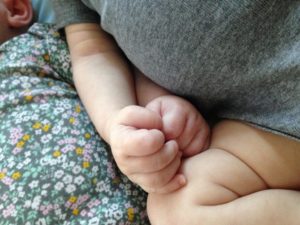 Things have been a lot quieter in the Lundberg household.  At least at night.  Gwendolyn is finally "sleeping like a baby" and without her cries in the middle of the night Lawson is staying asleep too.  It's even been easier to feed them in the morning because I am able to get them up individually rather than cater to two screaming newborns at once.  It's awesome.
By day it is another matter.  They seem to be awake all the time now.  That doesn't necessarily mean constant crying, but it can.  They are pretty happy babies, but often cry just to be held apparently.  nothing else will be wrong.  Lawson or Gwendolyn will just cry until carried.  Sometimes a little stimulation will help.  Tummy time is equally as effective at stopping cries as it is causing them.  They are both getting good exercise though and really impressing me with what they can now do,  Lawson is up and looking around all the time.  Gwendolyn grasps at everything she can get her hands on.  Lawson can now turn over, and Gwendolyn is really working all of her limbs.
They will completely lose it at any given moment and most of my day is consumed with trying to keep them calm. Sometimes, they just want attention, sometimes Gwendolyn will have the most horrific blow-out courtesy of the new formula we have her on, which truly does seem to have had an effect on her general contentment.  She smiles a lot now.  It's adorable.  Now that Lawson can roll over, he can't be swaddled anymore and he has begun teething so hopefully, that doesn't shake things up too soon for us.  So far it has had no effect.
I spent the weekend taking care of them at home while Sara has gone out.  Saturday she had a cooking class with her dad and a trip to Michael's for some cool craft stuff she's working on. Yesterday, she did the shopping I normally would do except that I don't have my car.  The quality time spent with these children of mine has been amazing, but it is so tiring,  With all I have to do it seems like time from feeding to feeding simply disappears.  Luckily, at the moment we are plenty rested.
I am happy they are awake so often, though.  I always try to do what I can to contribute to their development.  They seem to be growing so fast and I want to facilitate that growth whenever possible.  I can't believe we are going on four months now.