Last week Sara and I took the twins on their first big trip to visit Disneyland.  It was exciting and scary.  A lot of pre-planning was involved and we were nervous about the plane ride, but they flew very well and we managed to remember everything we needed in order to have a successful trip.  We wanted to expose them to the sites and sounds of Disneyland early on as soon as they seemed ready for it.  We planned our trip accordingly.  Sara and I have both visited the park too many times to count and we both worked there for years.  The magic never wore off, but we are at a place where we are just content to go to the park and just be.  So, our plans were kept light and focused on things we could do with the babies.  We decided not to take turns on the attractions like Space Mountain, or Indiana Jones, but instead to focus on Main Street USA and Fantasyland and take things really slow.
Gwendolyn and Lawson have been very alert lately and we felt like it was time to show them what a Disney park has to offer and see how they take to it.  It is important to both of us that we continue to challenge them and give them new things to see and experience since they are like sponges.  To me D isneyland is this super distilled, reinforced, idealized reality in which every detail supports a narrative and an environment that is built to be psychologically rewarding.  The music, sounds and aroma's and visions they would experience was something I was really looking forward to.  Of course things did not go as planned.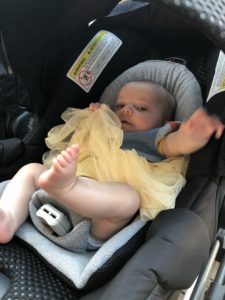 Initially I wanted to stay away from all dark rides, because I figured the twins weren't quite ready for that.  Instead my idea was to take them on the outdoor Fantasyland rides like Casey Jr., Dumbo, and the Storybook Land boat ride.  Sara really wanted to try Peter Pan and I agreed that of the five Dark Rides that would be the best choice.  We both also really wanted to ride it because we haven't been on it in years and it broke down while we were still in the queue for it during our last visit to Magic Kingdom in WDW.  We took the babies down Main Street, to the hub, over the drawbridge and through Sleeping Beauty's castle to reveal a fairy-tale carnival of excitement, followed by the jaw dropping realization that Peter Pan's Flight had an insurmountable wait time.
Sara and I are no strangers to planning a Disney trip.  We know well the importance of detailed planning and scheduling and on the flip side being able to toss all of that out the window when the situation called for it.  It could have been a very bad day if we followed through with our plans beat by beat.  Instead we played to the concept while improvising.  We couldn't eat at any of the places we wanted to due to surprising attendance.  I seemed to have even a harder time getting a snack at a cart.  I passed up one opportunity for a corn dog because Sara was waiting in a very short line to get silhouettes of the babies, but the family in front of us just kept growing.  By the time our turn had come and I went back to the corn dog truck the line was stretching out to the Plaza Inn entrance!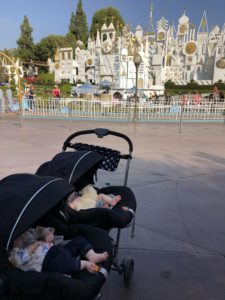 When things don't seem to be going as planned on a Disney trip, you have to roll with it and make adjustments or you will have a terrible time.  We knew we would not ride much because of the babies and we were only their for them anyway so our selection reflected what they might get the best experience from.  We took them on Pinnocchio's Daring Journey and Snow Whites Scary Adventure because the wait time was low.  We could not make Casey Jr. or Dumbo, but we did get to take them on It's a Small World.  I held Gwendolyn, who absolutely loved it.  She took everything in!  Except that we were on the left side of the boat and there is a huge blank section of nothing on that side near the end of the ride, so she started to dose off for a minute.
Getting the silhouettes was a lot of fun.  People outside were gawking at our babies through the window, bringing their family members over and pointing.  Everybody fawned over them.  The babies had a great overall experience with both Main Street USA and Fantasyland.  There is so much stimulation for them there.  We chose to camp out at the new Seating area by Bengal Barbeque for lunch and soak up the environment of Adventureland which you couldn't really do before.  We took the time to feed the babies and even went back to get second servings for ourselves.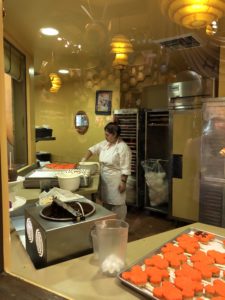 We then strolled passed the Rivers of America to Critter Country.  We were supposed to go to the New Orleans Train Depot, but Sara got distracted by the crowds and we were unable to change directions with the stroller.  We stopped in the back of Critter Country for some candy and then decided to head back to Frontierland and take a river cruise on the Mark Twain.  It was fun for us, because it is a relaxing and scenic ride, plus with the reshaping and new show elements and narration, it was a fresh experience.
We were so happy with how the day had gone and so proud of Gwendolyn and Lawson.  We wanted to do one more thing before calling it a day and so we headed to Mickey's Toon Town Station to catch the train for a grand circle tour.  This is the one thing we wanted them to experience.  We have always enjoyed the train very much and thought they would have a good time.  Nearing the end of the line was the first and only time the babies struggled and they had an all out melt down.  It was embarrassing.we tried to calm them with no success.  he would scream, she would scream louder… Then suddenly as we got to the end of the line, they just stopped.  I think the whole tantrum lasted about 5 minutes.  We boarded the train and had no issues after that.  The dioramas of the Grand Canyon and the primeval world went over very well, especially with Lawson who seemed very interested in the dinosaurs.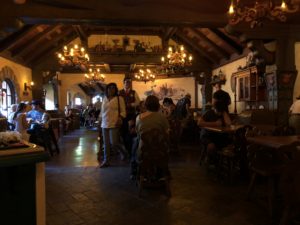 After going full circle we hit up some of the Main Street shops we missed on our way out and realized we were late in feeding the Twins, so we sat down in Town Square and fed them then reluctantly called it a day.  I was positively beaming with satisfaction over how the day had gone.  That night the twins got to have some quality time with my mom and get some rest after the busy day.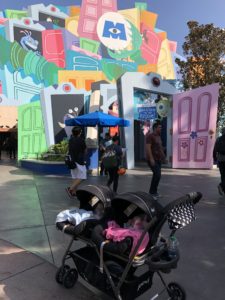 We went to Disney's California adventure too.  They went on Monsters Inc. with us.  Sara is worried the ride will close soon and it was the attraction we were working when we met, so she did not want to miss a chance to take them on it.  We enjoy the park very much but found that it does not hold the same magic for small children or babies.  However When we fed them in the Animation courtyard they were enthralled with the beautiful artwork on the big screens that circled all around us and the fantastic Disney music that accompanied it.  Lawson was wide eyed as the projections danced around the darkened room.
Sara and I just wanted to be sure to pass through everything.  I did ride Mission Breakout alone, then we took the twins on Heimlich's Chew Chew train, which they weren't into.  I guess because they're not eating yet.  Sara won them more toys at the midway and that was really fun to see.  I failed miserably at the Casey at Bat game, but I got a churro, so…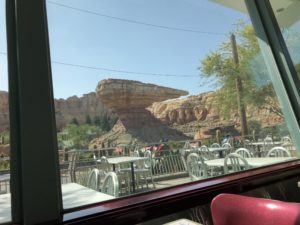 But Gwendolyn and Lawson had a very good time.  They were in great moods and the next day although we did stop at Downtown Disney for a couple of hours, it was sad that they were not going to get to experience the same magic again until next time.  But there will be more.  These kids already love Disney.