Sponsored post.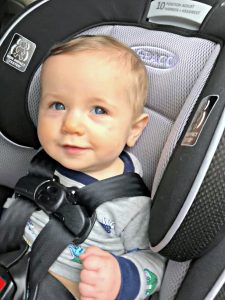 Family Car Buying Safety Tips
I recently wrote a handy little article on buying a family car on a  budget.  During my research, Cars.com proved indispensable.  I discovered the site to be an extremely helpful, user friendly buying and selling tool.  It's also an excellent resource for expert reviews and consumer information, car maintenance/repair help, payment calculators and other useful apps.  When I decided to do a follow up post specifically about safety, I again turned to Cars.com.
Safety is something we all consider when buying a car, but it becomes especially important when that "Baby On Board" sticker gets affixed to your rear view window.  manufacturers make cars safer every year.  Some features protect you in an accident and some try to help prevent them.  It's important to remember that they design a lot of the newer features to kick in, or assist when you stop paying attention.  It's critical that I emphasize the importance of always being focused and alert while driving a vehicle.  Safety begins with you.
Collision Safety
How your new vehicle withstands a collision is the pound of cure that results from proper airbag deployment and superior engineering.  What really makes a car safe is what happens to your family when it hits something.  A well constructed car is your last line of defense so it should be the first thing you look for.  Narrowing down your search to only vehicles with high collision safety ratings just makes sense.  You don't want it to be the last thing you consider after making all the other decisions and nearly choosing the wrong car.
Car Seats
Car seats for the little ones are an absolute necessity.  You can't even leave the hospital without one.  As a father of twins, I have two.  Some people have three small children whether it's triplets, or twins plus one, or whatever.  I saw a family today of three children who probably all sit in car seats.  You do not want to leave the dealership with your newly bought car, only to arrive home and find out the carseats don't fit.  This article on three car seat cars has an extensive list of all kinds of vehicles that will support three car seats.  Fun fact, your family car does not have to be a mini van or SUV!
Storage space
Storage is important, sure.  Is it a safety concern?  Absolutely.  With a family you can expect to have a lot of gear.  Some of our gear takes up a lot of space and our big SUV almost doesn't have enough room for carrying additional groceries.
When you can't safely store your cargo because it doesn't fit where it belongs, you start improvising, and that can be dangerous.  I remember one day I was driving with a can of paint in the seat behind me.  When I had to make a hard stop the can came flying into my console.  luckily nothing was damaged.  I had no passengers then and I wasn't hurt, but things could have gone very differently.
It's also important not to pack things too high so your view is obstructed.  Picking a vehicle that accommodates the right amount of extra storage is not just safer.  It's a lot more convenient over the long haul.
4WD/AWD
Consider the huge safety implications is choosing a vehicle with 4 wheel or all wheel drive.  The difference between the two is that with 4 wheel drive, you always have the power of those four wheels.  AWD is more conservative in that the all wheel drive capacity kicks in when needed.  Depending on where you live, the terrain may not demand either of these options, but even in Southern California my family often took trips into the mountains.  Rough terrain and harsh weather conditions make the road treacherous if you don't equip your car to handle more dynamic situations.  When you are driving up a winding snow and ice covered 20% grade in the dead of winter you won't have to worry so much.
Driver Safety Features
By mid-century many expect cars will be fully automated.  The way technology is constantly developing on new cars and given how quickly computer science has evolved in the past, we may be playing board games on our way to work even sooner than that.  Right now though, it's kind of an unsettled mix of safety features that make the driver feel at ease, but may promote negligence.
I like the features that alert you if you are about to strike something.  Forward collision warnings and rear cross traffic alerts are great.  Backup camera's are great also, but they are not a substitute for looking over your shoulder.  Blind spot monitoring is another nice feature, but I also recommend positioning your mirrors to eliminate blind spots.  Another key safety feature to look for is the AEB, or automatic emergency brake.  This is one situation where the car steps in if you are about to hit something and are too slow to respond.
Other useful features exist that have safety implications, but are more of a comfort issue or personal preference.  I'll have to get into all the other cool car tech another time.  Until then I highly recommend browsing Cars.com for more information.
Thank you for reading 5 Things You Must Consider Before Buying Your First Family Car, sponsored by Cars.com.  For more car buying tips, be sure to check out my article, Family Car Buying on a Budget.  To see what else Budget Savvy Dad has to offer visit the HUB.