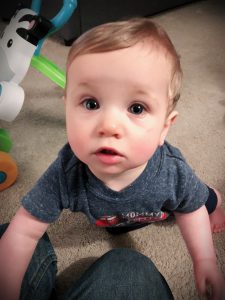 I am such a proud dad and so excited for my son Lawson.  He is beginning to walk!  It started out with him lifting himself up on the couch and grabbing at anything around himself to pull up his body and stand.  It is now to the point where whenever I look at him, he is standing up, holding onto something.
Twins on the move
Gwendolyn does it, too.  They will use anything at arms length that can help them up and they love climbing on me an holding onto my legs while I'm standing.  That not all, though.  They have an interactive walker.  It has dials and switches and has a motion activated motivational recording.  It also counts to ten and sings the alphabet.  Until recently they just used the interactive front end.  They would hold onto the handlebar if I placed them there, but it would get away from them and they'd fall after the first step.  I'm happy to report that that no longer happens to either baby.  Lawson does it best, and he pulls himself up onto the walker all by himself now.
Gwendolyn is also close.  I saw her pushing Lawson around the kitchen in his stroller this morning,  She started off on her knees, but was able to do it on her feet before long.  Unfortunately I didn't have my camera and my hands were soaking wet from soapsoapwaterwater.
Lawson has also been found steadying himself on multiple occasions.  He can't do it yet, but very soon he will be free standing.  I also caught him on the second step of our staircase today.  It's happening so fast!
More about the twins: