Growing and Changing Every Day
It's Spring time.  The trees and the flowers are in bloom and Gwendolyn and Lawson are experiencing their fourth and final season for the first time.  They are more grown than ever before.  So, we are really able to have fun with them and enjoy Spring together.
It's already been 9 months and they are crawling everywhere, standing up, teething.  They play and keep each other entertained.  They make each other cry and are learning to respect each others toys and personal space.  One thing that really caught me off guard was how they are in there car.
Driving Around
It used to be that just being in a car was enough to induce a coma.  We would drive and they would sleep until we got where we were going.  Lately it's been harder.  Gwendolyn especially cries a lot more in the car.  We figure it's because of their new found freedom from being able to crawl.  My guess is that they just don't like being strapped in to a chair anymore.
The last time we went out was really interesting though, because both babies were quiet.  At least they were's crying.  They were awake and making cute little noises.  But the surprising part was when Sara and I looked in the mirror and were able to see both of them staring out the window and watching the scenery change.  This was the first time we had ever seen them doing that and it was really exciting.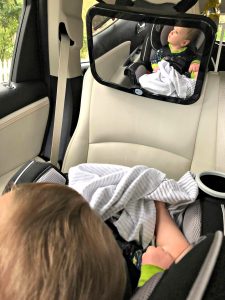 Road Trip
The twins are no strangers to travel, but now that they can actually see things from inside the car, we are thinking of taking a little road trip, maybe to Tillamook, or even somewhere farther.  There is wild animal safari in Southern Oregon that would be really fun to visit with them someday soon.