How we spent Easter 2018
We had a fabulous time celebrating Easter this year.  It was our first Easter with the twins and we have really enjoyed experiencing Spring with them for the first time.  It was also the first year we had Sara's parents join us at our home for Easter brunch.  The last time I pulled out the table leafs was for Thanksgiving, so it was really fun to go all out again and have a big meal as a family.
Traditionally, Sara's parents do the hosting and we have polish sausage with rye bread and hard boiled eggs, followed by lamb shaped lemon cake for desert.  For our meal, we went a little more familiar.  We had cheesy scrambled eggs, hash browns, pancakes, fresh fruit, and (of course) mimosas.  We missed the lamb cake, but we were all too full for desert anyway.
Gwendolyn and Lawson joined us at the table in high chairs for the first time.  It was great fun and they looked so cute in their Easter clothes.
Easter Baskets
We got Gwendolyn and Lawson toys at the Disney Store for Easter.  They were a Pluto plush and a Marie (Aristocats) plush.  Sara's idea was to make a game of "hiding" Easter eggs and having them find three eggs each to earn their toy.  I scattered the eggs and I didn't think it would go well, but Lawson proved me wrong and got the hang of it really fast.  Gwendolyn reacted more the way I expected them to.  She did catch on, though and they both got their toys.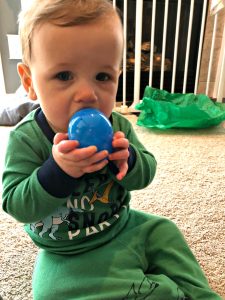 I didn't get an Easter basket, but Sara did give me a Twenty Eight and Main t-shirt, which are increasingly hard to find.  I felt like I needed to get Sara a basket.  It just feels weird not doing a basket for Easter.  It's like Christmas without stocking stuffers, or Cinco De Mayo without margaritas.  But we didn't have much opportunity to shop for each other this year and the only thing I could find in the store was plastic buckets, or pre made kid themed baskets.  I had a great mix of some See's candy that I just needed to package, so I decided to make her basket out of some other candies.
Do It Yourself
picking the candies
The basket made the gift work on another level, because Sara likes See's Candy a lot, but she also likes the movie theatre type candy.  It was super simple to put together.  I just took two long boxes of matching lengths.  Mine were Sour Patch Kids and Reeses.  These were going to be the front and back of my basket.  Then I picked up two more boxes for the sides.  I chose Junior Mints and Skittles.  All of these are candies she likes to have from time to time and the Junior Mints and Skittles matched in length perfectly.
Creating the Frame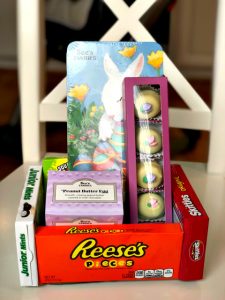 Next all I had to do was glue them together.  I put the Sour Patch box in the back because it is a taller box than the Reeses and made for a better display.  It may not matter what kind of glue you use.  There may be a better glue than what I went with.   My choice was wood glue because it was what I had on hand and it was convenient.  I dabbed it on one side of the two boxes and I pressed the skittles box against them firmly.  To add a little bit of style, I gave the Sour Patch box a bit of a slant.
Full disclosure, I held the boxes together for thirty seconds per the instructions, but the boxes did not hold and the Sour Patch box began to slide.  I went ahead with the other side anyway and found two paint cans to hold the box firmly in place so it could dry.
Finish
A couple hours later I went back to it.  I cut up some cardboard for the base and dabbed wood glue all along the edges.  Then left the candy box frame resting on it over night.  You want to make sure the base is just big enough for the frame to rest on.  I didn't use Easter Grass, because we have so many mouths it would likely go into, but if you wanted, you could even make your own grass with a paper shredder.
I recommend this DIY project.  It gets good results.  It's neat to look at and practical as a gift and as a treat.