Part 2…The West Side
For part one of our "Disneyland with infants" adventure with the twins go here.

New Orleans Square
Disneyland with infants was turning out to be a lot of fun and not too hard.  Our train steamed through the wilds of Adventureland and came to a stop in New Orleans Square, a themed area unique to Disneyland.  New Orleans Square is the crossroads of Adventureland, Frontierland and Critter Country.  It's home to Pirates of the Caribbean and The Haunted Mansion, two of Disneyland's most popular attractions.  The theming is very intricate and the suggestion of winding streets is some of Disney's best illusion.  There is a variety of dining for all budgets and the Blue Bayou hosts a very unique and romantic atmosphere, as well as terrific food and service.  New Orleans Square is a perfect companion to Main Street USA and I could happily spend a day just passing the time between these two parts.
We disembarked at one of my favorite spots in the park.  There is a fountain surrounded by lovely trees in the space between the looming Haunted Mansion and the outside dining tables of The French Market.  We decided to trek further west along the Rivers of America into Critter Country, where we ventured all the way back into Pooh Corner to do a little bit of shopping and we found Gwendolyn and Lawson a couple of cute souvenirs.
Critter Country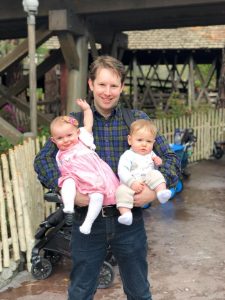 Afterward, we took them on the Winnie the Pooh attraction which was just right for them and there was hardly any line.  When we came out of that, we were ready to eat again so we stopped at The Hungry Bear.  This is one of my favorite dining places because it's the last remaining link to the old Bear Country.  Before Splash Mountain moved in and changed the name, Bear Country was home of the Country Bears.  The Country Bear Jamboree was probably my favorite attraction and I loved eating at the Hungry Bear, watching the Mark Twain and the Columbia circle Tom Sawyers Island on the rivers of America, and waving to the passengers on the train.
As much as I love it, I haven't been there too often as an adult.  It was nice to take it all in again and enjoy some peace in the back.  I got a chili burger with onion rings and it was really good for counter service.  The burger was very satisfying and the chili put it over the top taste-wise.  We took our time fed Gwendolyn and Lawson regrouped and used the restrooms.  There was a family room, which was very convenient for us, so we went in their to change the babies.  By this time we had done 8 attractions, not counting the Matterhorn Bobsleds and had two meals with the twins.  We headed back toward New Orleans Square with confidence; But we had already been in the park longer than we were used to and weren't sure how much more time we had before we overstayed.
Back to New Orleans
When we arrived at the entrance to Pirates of the Caribbean– and not a moment sooner– We decided to get in line.  We parked the Stroller and I carried the babies.  It was a fifteen minute wait.  People chatted us up in line for the first time of the day.  The cast member who greeted us loved the babies.  Part of the secret to having a successful day at Disneyland is to pace yourself and mix it up.  One way of doing that is by adding places where you can rest– like restaurants and snack carts– in between rides.  Another is by choosing easy going rides.  Pirates of the Caribbean is about 20 minutes long and it's a mostly slow scenic boat ride.  Having a planned route and remaining flexible are also crucial because you will better conserve your energy and better enjoy yourself under changing conditions.
Adventureland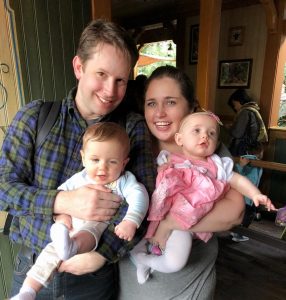 The Twins Had been on Pirates of the Caribbean in Disney World, but this one is so much better because of the bayou scene.  It was a fun ride, not too scary for Gwendolyn or Lawson.  We then decided on some treats at the Bengal Barbecue.  We had such a good time sitting in their expanded dining area on our last visit and wanted to share a couple of skewers.  I also got a jungle julep which is non-alcoholic and very refreshing.  After that little rest we popped over to the Jungle Cruise.  We weren't sure about the line, but it seemed to be moving quickly.  more park guests chatted with us in line about Gwendolyn and Lawson and took our picture for us.  I held Gwendolyn on my lap.  I don't think she enjoyed this boat ride as much as Story Book Land.
The Jungle Cruise was our 10th attraction as a family, officially solidifying the day as a rousing success by Disneyland standards; But we weren't done yet we continued on to the Enchanted Tiki Room.  Lawson cried the first time we took the babies to the Tiki Room.  He almost had to leave early.  This time he not only liked the show, but hearing us sing the songs while driving back to the hotel actually stopped his crying in the van.
Frontierland
By now we were near the hub and could have easily headed back to Main Street and called it a day.  Instead we went through the shops of Frontierland and I got to do one more mountain.  Sara waited with the babies at the tables of Rancho Del Zocalo while I rode Big Thunder.  Big Thunder rivals Space Mountain for my favorite Disneyland coaster.  I was very happy to get a chance to ride it, since over the years I have not made time or taken the opportunity.
When I came out it was time to feet the babies again and we went to the baby center on Main Street USA to do that.  The baby center was hot inside.  They didn't give us a good explanation why, but everyone that came in, even cast members complained about the heat.  This was their big feed with solid food and a bottle so we were in there for a while and had to clean everything off and change the babies while we were their.  It felt like forever.
Tomorrowland
We could have just shuffled our way down Main Street toward the exit after that.  However, we had not yet visited Tomorrowland and we really wanted to ride the Monorail since it has been a while since either one of us has done it and Disneyland doesn't have a Peoplemover.  We shared a churro on the way through Tomorrowland and almost got to the station when the cast member on the PA said strollers needed to be folded.  We really didn't feel like doing that so we turned around and reluctantly decided to leave.
I still can't believe how much we did, how long we were able to stay, or how well behaved Gwendolyn and Lawson were.  It was truly and incredible day at Disneyland and I know they had an amazing time too, just because there is so much beauty and variety in the park for them to take in.  I can't wait until they are old enough for Tom Sawyers Island.