Disneyland Again…Part 1
At eight months, Sara had business in Anaheim and we could not turn down the chance to take the whole family down and enjoy the park for a day.  This time was far more rewarding for us and we saw recognition from Gwendolyn and Lawson regarding things they had previously experienced in Disney Parks, as well as a lot more awareness.
The Plan
We dressed up Gwendolyn and Lawson for the park in very cute classic Winnie the Pooh clothes and went into the park with a plan.  We did not expect to do a lot, but as before that wasn't the point.  It was more about enjoying the scenery and taking them on a few rides that they could enjoy.
Our plan was simple:  Zip past Main Street USA and head through Sleeping Beauty Castle into Fantasyland.
Ride Peter Pan if the line is not too long.
Ride Storybook Land and Casey Junior,
Eat breakfast at Red Rose Tavern,
Ride It's a Small World
Take the Disneyland Railroad to New Orleans Square.
Eat at Bengal Barbeque
Ride Pirates of the Caribbean, maybe
We considered this a pretty nice wish list.  anything else would be a freebee.
What Actually Happened…
Storybook Land
Well, we did zip down Main Street and stop for pictures in front of the castle.  Things did not look good for us as the sky threatened rain.  Peter Pan was already filled up and Casey Jr.  looked like it was down.  Undaunted, we decided to head for Alice in Wonderland.  It was a great idea.  The attraction is a very good blend of the classic ride updated with some supplemental technology enhancements.  I rode with Gwendolyn and she was much more involved in the ride experience than on the previous trip.  It got me very excited for what the day might bring.
After Alice, we went on the Storybook Land ride, which I haven't done in decades.  It was a lot of fun.  Disneyland has very early roots in miniatures.  If you have never been on this attraction, it is just a slow boat ride through beautiful garden-scapes  and tiny recreations of locations from Disney fairytale movies like Pinnocchio's village, The houses of the three little pigs, The seven dwarfs' home and more recent additions like Arendelle from the movie Frozen.  One of the really cool things about this ride is how the snow covered Alps above Pinnochio's village lines up with the Matterhorn in the distance.  It was while riding through Storybook Land that we found out Casey Jr. was operational, as the two attractions are closely intertwined and we could see it "coming down the track."
Mr. Toad's Wild Ride
After the boat ride we hopped in the short line to Mr. Toad's Wild Ride.  I love this true Disney classic.  There is always talk of this ride being shut down and replaced.  It is one of the opening day Fantasyland attractions and we really wanted to be sure to experience it, just in case. Side note: If you ever wandered about the meaning of the coughing green dragon in the ride's final scene, it is a reference to the Green Dragon Public House seen earlier in the ride.  It's a good indication that the infamous Hell scene at the end of the ride is actually a dream.  One of my earliest Disney memories is of riding this attraction and it always puts a smile on my face, so it was really fun to ride it with Lawson.  Gwendolyn didn't care for the explosions on the ride, but she recovered nicely.
Provincial Breakfast
Next, it began to rain so we went to the Red Rose Tavern for breakfast.  The food was great.  I had Mickey Mouse pancake, which was awesome.  I thought you couldn't get them anymore, so I jumped at the chance to order it.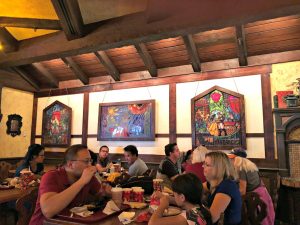 We enjoyed the scenery inside.  The "tavern" used to be Pinnochio's Village Haus and had themed murals on the wall.  Now, themed to Beauty and the beast, there is new artwork.  Murals and stained glass reflect the story and you can even spot a china set that includes Mrs. Potts as she appears in the live action version of the film.  I remember a small cuckoo clock store next to the restaurant, but it is not there anymore.  I don't know how long it's been gone, but it is now a Beauty and the Beast themed gift shop.
All Aboard!
We took time to feed Gwendolyn and Lawson and change them one at a time in the restroom nearby.  The rain let up and the sun came out.  We then went on Casey Jr., which had a very short wait.  The circus train attraction provides another scenic view of Storybook Land.  This time we watched from above while the trip around the track was underscored by the Casey Jr. theme and the "I think I can…" dialogue from Dumbo.  Storybook Land canal boats and Casey Jr. are both great fun.  without having children with us, we probably would have missed out on both of these indefinitely, but they are so charming and worth a look even if you don't have kids.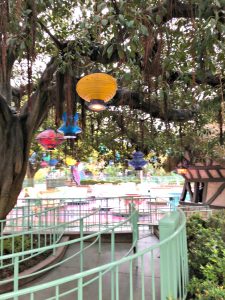 By know we had had a big breakfast and been on 4 attractions.  Now, it is considered a good day for anybody if they can get on ten attractions in Disneyland.  We were hoping for half that and now with the sun out and four attractions down, we were confident that we'd do a lot more.  That's when we noticed a lot of Fantasyland attractions were down.  The Mad Tea Party, King Arthur's Carousel, even Mr. Toad's Wild Ride.  We headed back toward It's a Small World.  We weren't sure if it would be operational and were relieved to discover it running.
Mickey's Toontown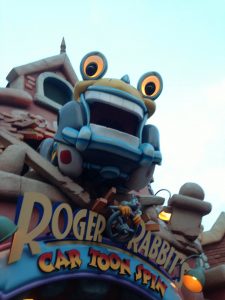 This would be the third time Gwendolyn and Lawson went on It's a Small World.  We did it at Disneyland and at the Magic Kingdom in Disney World.  Before riding, we decided to head into Mickey's Toontown, where we took some photos in Goofy's House and rode on Roger Rabbit's Car-Toon Spin.  We didn't know this ahead of time, but they don't allow lap-sitting on this ride.  It was very jerky and hard to hold onto our babies even without spinning the cars.  So, the ride was not enjoyable for us and they couldn't even see anything.  After a little bit of shopping in the Gag Factory we decided to go back to Fantasyland and ride It's a Small World.  They loved this one.  I love how much they love it.  They recognize the song and smile, and there is so much for them to look at on this ride.
Matterhorn Bobsleds–Solo Expedition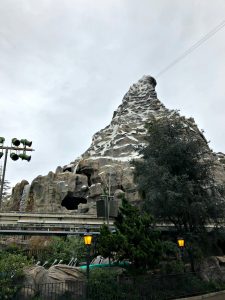 Afterwards Sara had a snack and sat with Gwendolyn and Lawson on a bench while I went on the Matterhorn.  I wanted to do a few of these because I skipped it the last time and we were there.  As a single rider I got through very quickly.  The Castmember directed me the wrong way though.  I had to ask her if I could use the single rider line and I don't think she wanted to admit she made a mistake, because her response was "I guess, if you want to."  Yes.  I wanted to.  If I had gone the way she directed me it would have been a 10-15 minute wait.  By going the other way I went straight onto the next bobsled.  I had a good time on the ride.  The trick to making it less jerky is to pretend you are using the handles to steer and lean into the turns.
Heading out West
I rejoined my family after only a few minutes and from there we headed back to the Mickey's Toontown Depot to take the Disneyland Railroad.  I love the Disneyland Railroad.  The Grand Canyon and Primeval World dioramas are one of my favorite parts of Disneyland and I always try to fit it in.  Plus, we have a newfound appreciation for the Disneyland Railroad after riding the Walt Disney World Railroad, which is just plain awful.  There is hardly any scenery by comparison.  We looked on as we passed the stunning scenes with some updated effects.  lighting struck a tree and started a fire in one really cool effect, that sent poor Gwendolyn screaming.  Again she recovered quickly, but the sweet girl just doesn't handle surprises very well.  We stayed on at Main Street Station and awaited New Orleans Square… part 2