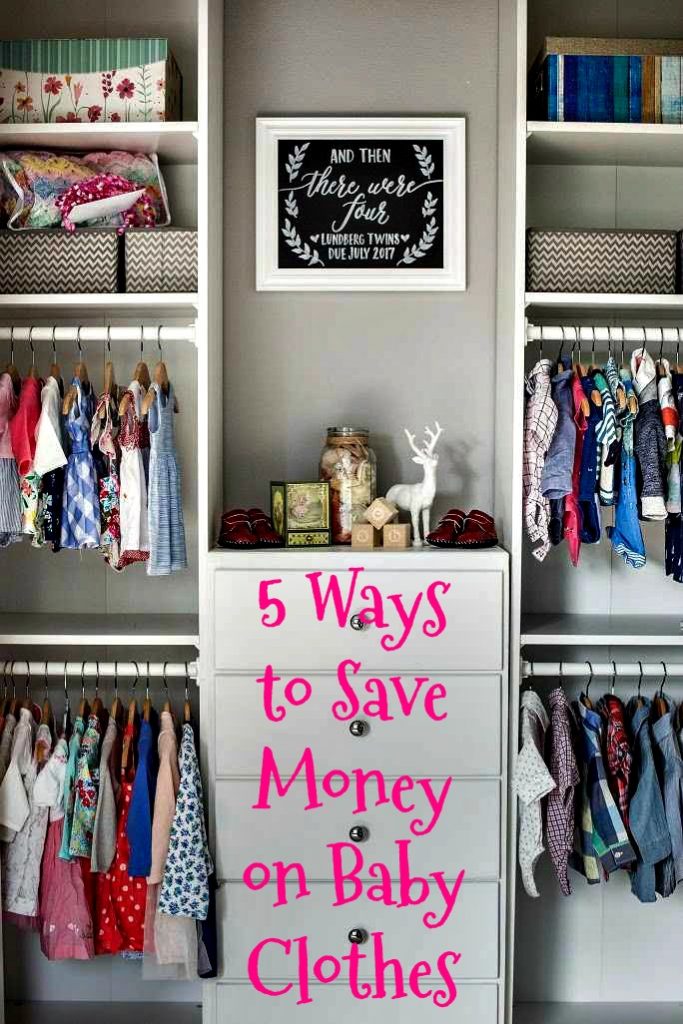 It's no secret.  Baby clothes can be expensive and they last for such a short period of time.  What can you do?  Clothing is one of your babies basic needs.  And baby clothes are terribly cute, which makes saying know to an outfit almost impossible.  It is really easy to run up the bill just picking out a couple of things for your child to wear, but it doesn't have to be a huge budgetary indiscretion.  You should be proud of the clothes you buy for your child because it is, well clothes for your child, and also because you got an awesome deal.
The First and best tip is to stay away from needs based buying.  What I mean by that is, don't wait until you need it in order to buy it.  Same rule goes for emergency gas cans.  If you buy clothes for your babies in anticipation of a need, you have more control over what costs are acceptable and thus more shopping power.  Part of this can mean buying larger sizes when you are taking advantage of a sale.  Your three month old will be 9 months eventually, so why wait 6 months if the price is right now?  We have outfits from when Gwendolyn and Lawson were newborns that we purchased in various sizes because we wanted them to continue to be able to wear that style.
sign up for emails so you can get the latest on discounts and sales.  Sign up with your favorite retailers to get email alerts and look online for websites that specialize in flash sales and discounts on name brand clothes.  Shopping online is so much easier and finding what you want at a bargain is only as complicated as how many tabs you are willing to have open on your browser.  Getting email alerts is the best way to be notified when one of your favorite stores is having a sale.
Always check the clearance rack.  Clearance should always be the first place you look if you want to save on baby clothes.  It works best when used in conjunction with 1 & 2.  If you are already aware of a sale that will further reduce the clearance price of an item of clothing you can stretch out your dollars that much more.  If you see a great bargain, but it's a size too big, get it anyway.  Your baby will grow and you won't need to go out and buy new clothes because you'll already be prepared.
Buy strategically.  Use combinations to your advantage and consider the wear and tear.  Your baby may wear three or more outfits in a day depending on whether those outfits remain unspoiled by the various liquids that are bound to issue forth from your babies mouth, or otherwise.  All those wardrobe changes are not likely to consist of frilly dresses with matching cardigans, or bow ties and suspenders.  Invest in sleepers and onesies to make sure they are well covered in emergency situations as well as from day to day, and use the super cute, charming outfits sparingly and for short outings. A few different pants options goes a long way in pairing with a variety of onesies.
A great way to get bulk baby clothes for a steal is to bid for a bundle of used baby clothes on eBay.  This is a very frugal way to fill out your babies wardrobe.  You can also go to thrift stores, try message boards, social media, and websites that specialize in gently used baby clothes, but in terms of sheer volume for the money, eBay is the best place to start.  Many sellers just want to get rid of their unneeded clothes and will set very low opening bids that are likely to stay very low by the end of the auction.
Don't be the person that spends over a hundred dollars on a few cute outfits.  Be the person that checks out with multiple discounts and goes home with piles of adorable, Instagram worthy clothes that will span your childs first year of growth.  For our twins, we have a large selection of clothes from the current 3-6 month range all the way up to 18 months.  Many of the really great outfits are duplicates in different sizes, but most of them are onesies, because they're easier to change and it's not such a big deal if they are soiled.  We always pack them as emergency clothes when we go out.