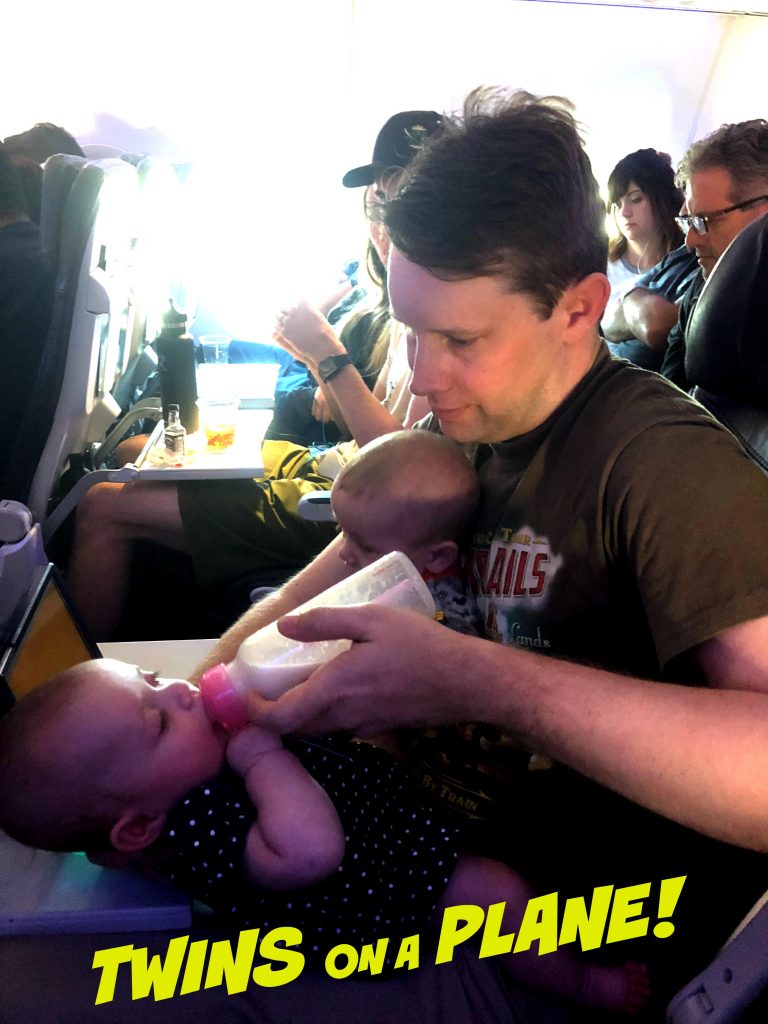 We did it again.  Got up at 1:00 am called an Uber and took the whole family to the airport.  We must be insane.  Gwendolyn and Lawson did so well on our Disneyland trip over a month ago.  The flights and the accommodations, the park visits all went very well.  We had banshees during the witching hour– for them it's somewhere between 6:00 and 8:00– where they just couldn't be calmed down, but that was expected.  The air travel, however, was a dream.  They were so well behaved and everybody loved them.  Only one guy changed seats when he saw us coming, but neither baby fussed at all.  It was wonderful.  The trip down to California was to visit with Family and friends and show them the twins.  It was also something of a dress rehearsal for something bigger!
So we, loaded the car seats, packed two large suitcases, two carry on suitcases, my diaper backpack, Sara's purse, and the fold up Joovy twin stroller and piled into the van on our way to catch another flight.  This one would go to Seattle where we would switch planes and fly out to Indianapolis to meet my family.  We must be crazy, but it worked out great.  Again there were so many people in love with the twins and eager to help.
Since airlines still don't know how to handle checked baggage we got some dings on our hardware the last time we traveled.  So, this time we got bags to put the car seats and stroller in when we checked them at the gate.  The downside was that now, instead of rolling the stroller down the sky bridge, I had three large bags to carry in addition to my backpack, my carry-on and my darling Gwendolyn.  This was the challenge we dealt with every flight.  Basically always asking the question: "How good is your service?"
Each time it was different.  Some hemmed and hawed and took down the checked baggage reluctantly.  Some insisted tat we would be responsible for carrying everything down, only to change their minds once they saw exactly what we had.  I even said on one occasion that I didn't mind making multiple trips but I didn't want to slow down the boarding process.  This was after talking in circles with a Southwest employee who at one point offered– as a solution– to hold our babies.  Yeah.  That happened.
Dealing with the hardware turned out not to be a problem, Just getting good help was a bit unreliable.  The ergo babies allowed us to carry the babies while handling luggage as the stroller was checked.  Getting off the plane was a piece of cake because I was able to re-assemble the stroller immediately after de-boarding.  After a couple of nights in indiana it was back on a plane but instead of going home we went to Orlando, FL.