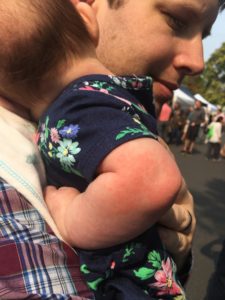 Every year we go to the Polish Festival in Portland and this time around was the first time for Gwendolyn and Lawson.  They hadn't even been conceived yet the last time.  I love going to the Polish Festival and we always have the most amazing time there.  They've got wonderful Polish food– kielbasa, pierogies, another tasty but incredibly hard to pronounce thing that I basically ate whole before you could say what it was anyway– there was shopping, a couple of good bake shops and, of course, beer.  I am a little Polish.  Sara has it a lot on her mom's side of the family.  I really just enjoy the cultural experience, especially indulging in the cuisine.  It's not exotic by any measure, but it is a good deal of fun and I look forward to having more of these types of experiences as the children get older.
It was my first time driving to the event and Sara's parents and brother were waiting for us at a table that they'd staked out.  We were running a little behind.  Getting in and out of the car with the babies is not a problem for us.  I always anticipated that that would be a struggle, but we have the routine pretty solid.  What I wasn't prepared for was for the address on the website for the festival to be wrong (insert polish joke here)!  I plugged the address into my 4 year old navigation system and we got sent over the Willamette to somebody's house on a very small street.
So we arrived right on time to the wrong location.  Now, since day one of living in Portland I have had run-ins and altercations with the signage and let's say interesting choices for street planning.  It's not my favorite thing to drive anywhere in Portland for the first time, because there is always some Shyamalan scale twist that winds up setting me back when I need to get somewhere important.  Just yesterday I had a very exciting appointment in Portland, that I can't talk about yet and I was very nearly late because a subtle and abrupt traffic direction that I found insurmountable caused me to overshoot and sent me west on 26.  I watched bumper to bumper traffic coming back the other way as I agonizingly waited for the next exit so I could turn back around and join the stalled traffic.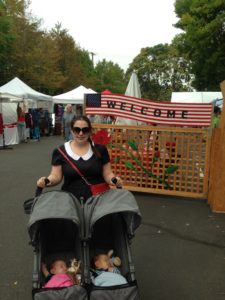 Well, we got the correct location for the festival, but not the parking, so we wound up passing it and the one way/dead end streets and traffic laws were such that we were prevented from just simply circling around and trying again.  The things I do for a pierogi.  When we finally got there we found plenty of parking.  There was live entertainment and booths selling polish wares.  I got the combination plate which had some of everything.  Sara got Latkes and a crepe.  My one regret is that I went with a lighter beer instead of the porter.  It was a cloudy day and a little on the cool side.  I would have enjoyed a darker beer.  Gwendolyn and Lawson garnered a lot of attention.  When we finished eating we passed the stage where some awkward folk/rap was being performed.  Later there was more traditional song an dance, but first I guess they wanted to make everybody cringe with embarrassment.  There was also a bakery in a church basement where I got myself a polish donut that was quite good.
About that time we needed to start feeding Gwendolyn and Lawson.  They have gotten a lot trickier to manage in a public setting as they are awake a lot more and tend toward fussiness when we are not doting on them, or for no apparent reason whatsoever.  Gone are the days when we can just plop them down at a restaurant and enjoy a meal without interruption.  Amazingly, my backpack is the best I could ever dream for.  We are always prepared.  There is a strategically planned place for everything.  We got ours at Sara's baby shower and I can't recommend it to a new parent highly enough.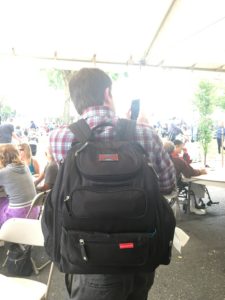 The sun did come out and we had a nice stroll through the festival grounds and picked up a couple of inexpensive little international treats before we left.  We didn't even have to go straight back home as we usually do, because we fed the babies and the feeding went so well.  We grabbed a bite at a drive through because Sara was still hungry.  The pumping really takes it out of her, so she always needs to replenish.  I also needed to stop for gas which was great because I was worried I'd complete the day without driving the wrong way on a one way street.