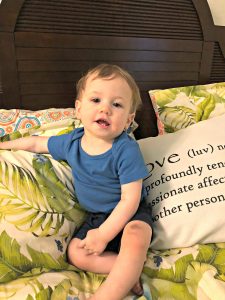 Lawson has been the real mover, between he and Gwendolyn since they first started to crawl.  Now they both pull themselves upright and walk along the furniture.  They even both push chairs across the room.  Lawson is on two feet most of the time, and it's not surprising that he has finally begun walking on his own.
Baby steps
Lawson has been taking baby steps for the last month.  he is able to stand alone and sort of stumbles forward into his mama's arms.  It started with more of a forward fall as he put one foot in front of the other.  Soon he was taking two steps, followed by three.  At the airport the other day lawson stood up on his own and balanced.  He then took two deliberate steps toward men then stopped, still in full control, before sitting down.  I was so proud.  It takes a lot out of him, so he usually doesn't do it more than once.
Walking on Video
Ever since Lawson took his first steps, I have been attempting to capture it on video.  Unfortunately he has been very elusive.  Each time I spot him taking steps, I reach for my camera and like clockwork, he falls down.
I'll catch him in the most amazing moments and no matter how prepared I am, or how quickly I have my camera ready, he stops.  He's like the singing and dancing frog in the Warner Brothers cartoons.
This morning I watched him do the best walking yet.  It made me so proud.  I grabbed my phone immediately and tried to get him to do it again, but of course he wouldn't.  However, he did get some practice in with mama a little bit later and I did get at least some of the action recorded.