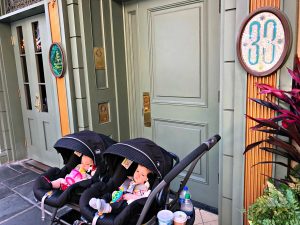 We recently returned from what was yet another trip to Disneyland.  We found ourselves in LA once again, this time for the twins.  The last time we were in Southern California it was because of business for Sara.  This time, it was for the twins.  Still, we can't seem to be in the area without heading back to the old stomping grounds.  and no trip to Disneyland is complete without reaching new milestones.
Gwendolyn and Lawson were eight months old the last time we went to Disneyland and every time we go they seem to make a dramatic leap forward in their development.  The first time, at three months, they became more attentive and started using their hands more.  At eight months, they began to crawl a lot more and Gwendolyn said mama for the first time.
The latest
This last trip to Disneyland follows in that tradition of new milestones.  Gwendolyn said Dada, her second word while we were in one of the parks.  Both babies had their first toddler meal and have begun eating bread and rice.  Not only that, they can drink from straws!
We took the twins to lunch with us at Naples in Downtown Disney and I had a blast holding a water cup for Lawson while he sipped it from the straw.  They both have souvenir cups now (from Disneyland) to commemorate the occasion.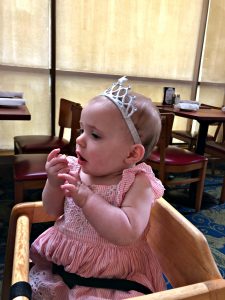 Gwendolyn ate the bread they brought to the table and really enjoyed it.  I can't believe how fast these two are growing up!  Even Lawson, who has resisted anything other than puree, is now eating real solid food.
Back home
Now that we are back home they continue to grow and push boundaries.  Gwendolyn is now climbing stairs.  I watch her very closely and she is very good at it.  Both are practicing supporting their own wait and trying to walk on their own.  With every new change, it is so hard to believe how far they've come.