The Dole Whip is one of the most popular treats at Disneyland.  The churro might be better known, but the Dole Whip certainly has more of a cult following.  It is definitely a fan favorite.  One reason for this is the widely held belief that you can only get it in Disneyland (or Magic Kingdom), but this is not true.  Dole Whips are not exclusive to Disney, however, and the iconic treat has been cropping up in more Disney Parks and resorts as it's popularity has spread.
Secret Dole Whip location
While several places offer the Dole Whip in Disney World, Disneyland has been a little tougher to get around.  The Tiki Juice Bar has a notoriously long line, leading people to cross the turnstiles into the enchanted Tiki Room pre-show area in order to take advantage of the shorter line.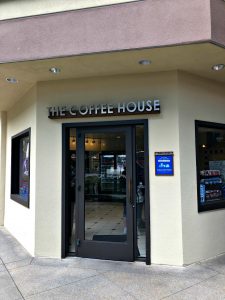 But what if I told you, you could get yourself a Dole Whip or a Dole Whip float without even entering the park?  No, I'm not talking about Trader Sam's.  I'm talking about someplace much easier to get into and much more hidden.
The Coffee House on the west end of The Disneyland Hotel serves Dole Whips and Dole Whip Floats.  You can even get it with rum.  This inconspicuous location near Goofy's Kitchen and Steakhouse 55 might just be the easiest place to get your pineapple fix on the west coast.
Dole Whips Around the Country
Dole Whips are not actually exclusive to Disney parks.  Some locations use the term Dole Whip. Others merely say pineapple soft serve, but the treat popularized by Disney fans is becoming more and more available all across the US.
Some maintain that there is something different or even proprietary about the Disney version.  If that is true, The Coffee House is the most unexpected, even hidden place you can find it.
THE SINGLE MOST IMPORTANT PART OF PLANNING A WALT DISNEY WORLD VACATION