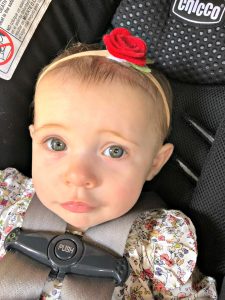 I'm so happy and excited.  My little baby girl Gwendolyn said "dada" while we were at the Disneyland Resort catching a rest in the Boudin Sourdough bakery on Pacific Wharf.  We stopped there to feed the twins and my babbling little miss made the most beautiful sound I ever heard.
How it happened…
It caught me totally by surprise and I didn't believe it really happened at first.  I thought I misheard, but she finally repeated it and I heard it for sure.  There were other times before where I thought I heard her do it, but I could not get her to verify it until this moment.
She still says mama a ton, especially when her mama is not around, but she is saying dada a lot more now.  I usually hear her do it when I'm out of the room.  It is so sweet.
Gwendolyn loves attention and she is now able to call to either one of us when she wants us which is really cool.  She still cries a lot when I leave her.  Sometimes I can get her interested in a toy and buy myself some time before she cries again.  What I really look forward to is when she can finally talk to me instead of cry.
Lawson
Lawson is one happy boy.  he doesn't always look like it, but he loves to laugh and he will laugh at almost anything his mama does.  He doesn't speak yet, but he understands a lot. I know he will be talking soon, but I have no idea what his first word will be.  I think he may have said mama once, but I haven't heard it since.
Other first words
There are a number of other words I've been working on with them:
ball
cup
spoon
bib
keys
coat
shoes
socks
car
truck
plane
We've also gone over animals and animal sounds, colors, shapes, letters and numbers.  So, who knows what will come out or how things will progress?  If speech is like crawling they may be amassing quite a vocabulary before they reach one year.