I took Gwendolyn upstairs to change her in the nursery before lunch.  Lawson stayed behind as I did not feel like carrying them simultaneously.  Sometimes in urgent situations,  I have to carry them upstairs together.  They can get very loud and fussy.  If Sara is pumping milk and they start crying, or yank at tubes and cords it stresses her out and affects her supply, so I have to remove them quickly.  This was not one of those times and I was lagging after a long morning of baby wrangling and chores.
When I went back downstairs to scoop up my son, I found him by a low window.  Nothing surprising there.  Gwendolyn and Lawson both look out the window occasionally.  It wasn't even that surprising that he was standing.  He has been doing that a lot lately and I've seen him get up using the windowsill for support.  The odd thing was that he was wiping the window with a cloth.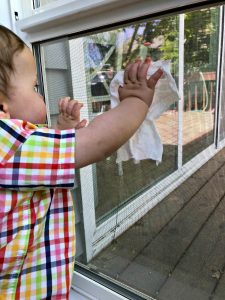 It was actually a baby wipe he had gotten a hold of.  I don't know where he got that.  I'm sorry to say we haven't cleaned the windows in a while.  There is no way he could have witnessed us doing this, so he didn't learn it from us.  It's pretty neat though.  Maybe I can get him to do the other windows in the house.
The sight of what appeared to be my nine month old son washing windows was so surreal.  It got me thinking about the things they will be able to do in the years ahead and how someday they will be doing actual chores around the house.  I think I was about 4 when I started taking the garbage out.  That was my first household chore that I can remember.  What age do you think is right for that sort of job?  I gotta put this guy to work!