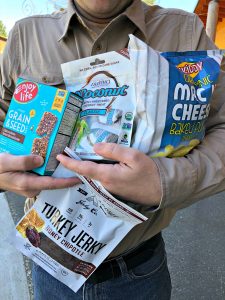 We've been enjoying the outdoors more often and for longer periods, so we like to make sure our backpack comes equipped with good snacks to keep us powering on while we are out with the babies.  I've had the opportunity to try out some amazingly tasty snacks and treats while on the go this month and I want to share my favorite healthy snacks.
Bare Fuji & Reds Apple Chips
I love apple chips.  They are sweet and convenient.  Plus it's real fruit.  These Bare apple chips are probably the most flavorful I've ever had and they are just the right amount of crispy.  I had these recently on a picnic with Sara and the twins when we went to the Wooden Shoe Tulip Festival.  We had only one bag, but they were so good I refused to go Dutch.  The ingredients are just apples, with no preservatives or added sugars and no oil.  These are a must grab for parents and kids snacking on the go.
Good Health Siracha Veggie Straws
I haven't taken these snacks on the road like I have the others, but they are REALLY good.  Their vegetable taste, actually makes my brain think I'm eating stir fry, or something.  I enjoy them as a side for my sandwiches or BBQ.  The sriracha flavoring is not too intense and gives the straws just the right amount of kick.  These snacks are non GMO and gluten free with Extra Goodness TM (vitamins A, B6,C,E and K).  They also use no artificial colors or hydrogenated oils.  Love 'em.
Snikiddy Mac N' Cheese Organic Baked Cheese Puffs
This is a kid inspired healthy snack, but I love Mac and cheese and these are so good.  The serving size is totally reasonable, about 1/4 of a bag.  It's a very shareable treat.  Sara and I both really liked the flavor.  We shared a bag over a picnic at the zoo.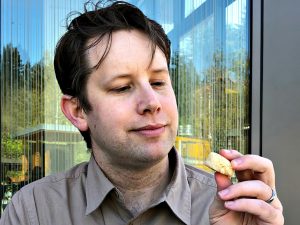 Nutiva Organic O'Coconut
These are so good.  I am a coconut fan and if you like coconut, you have got to try these.  The bag comes with 8 individually packaged bite size cakes with only 3 grams of sugar.  They are a perfect treat for snack or desert, and are USDA certified organic and non GMO.
Enjoy Life Foods Grain & Seed Bars
Enjoy Life Grain and Seed Bars come in a variety of flavors including kid friendly Chocolate Marshmallow and Banana Caramel.  These are vegan, allergy friendly protein bars.  They are easy to pack and ideal when going on a long hike to keep you going strong.
Country Archer Honey Chipotle Turkey Jerky
I enjoy plant based protein, but what I really am into these days is turkey.  I substitute beef with turkey whenever possible and one snack I really love is Country Archer Honey Chipotle Turkey Jerky.  It is amazing.  This jerky has that perfect chew and it has just the right amount of flavoring.  It's sweet and spicy and my new favorite snack whenever I'm packing grab and go foods.