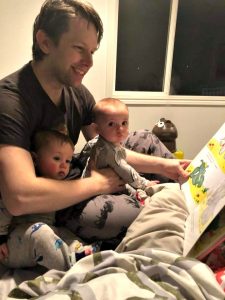 I read to the twins every night.  We recently got library cards and we check out more books at least twice a month.  They have a program that challenges parents to read 1000 books before preschool and we signed up for that.  Needless to say we check out a lot of children's library books.
Our Awesome Library
Our library is not huge, but it is nice.  There is a good selection of children's books and there is a section with a fireplace that looks really cozy.  I haven't used it yet, but maybe I'll have time someday.  Libraries have gotten a lot more high tech since when I used to go regularly.  I went to the library all the time when I was single and Sara never cared to go to one until the twins came along.  Now, they have self check out stands that automatically scan a whole stack of books.  It's sorcery.  It's really neat for children, too because there are no late fees on children's books.
My One Issue So Far
I went to check out a few books recently while Sara was at the bank and I had to make a payment that seemed excessive, but also within the realm of possibility (Kind of like how Vincent believes Marcellus Wallace threw Antione Roccamora out a four story window for giving Mia a foot massage).  I paid the fee so I could check out the books, but I was a little upset.  Later we got a bill in the mail that explained that the fee was for.
Basically it was to replace a book that was alleged missing,  It didn't take long after the due date, for our account to get billed.  What that means is that you may not have late fees but there is essentially a freeze on your account until every book you check out is returned.
Reparations
I went to the Librarian whom I see every time I go.  She is so nice and very patient to a degree that I can't fathom.  I have never seen her deal with a difficult patron, but the level of detail she is always so willing to go to in order to help answer a question is kind of staggering.  Her calm and kind demeanor is so impressive to me.  I'm usually in a hurry, but I don't have the heart to cut her off or speed her up.  She is just so awesome and I don't want to be a negative influence on her character, or her conduct.  So, she actually makes me feel like I'm a better person.
I told her what happened and the system showed the book the charge was for.  Another Librarian went to look for the book and after a while returned with the title, but it was the wrong serial number.  This Librarian was less kind and was actually kind of rude.  She told me that I had not returned the book I said I did.  She even snapped at the good librarian when she was trying to explain something to me.  I didn't let it go, because I knew I had returned it and it had been a week since I had.  It turned out that the book had been processed and checked out again to somebody else.  I wonder how many people actually end up paying for book replacements that shouldn't.
How to Protect Yourself from Fees
I don't know why they couldn't just check the books history to begin with rather than go search the shelves.  I think they must get a lot of "book replacement" money off of parents who aren't sure whether they returned all of their books or not.  If your library operates this way, just don't make the payments until you talk to somebody and confirm the status of your account.  Also, if you check out a lot of books at a time It is a good idea to take a photo of your books as you return them for reference.  I got a refund, minus a $5 processing fee.  If you pay a fee and later get a refund the processing fee will not be returned, so be sure what fees you are paying for if you get a charge at the library.
Thank you for reading.  Please see more of my articles on parenting and our adventures in Oregon.