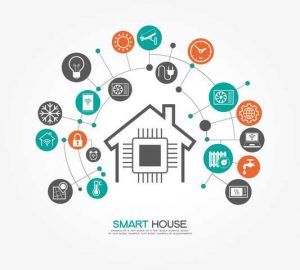 SAVE MONEY ON A SMART HOME
There are 5 different areas or categories that smart homes can cover:  Safety and Security, Communication, Lights, Energy Efficiency, and Audio Visual.  Transforming your house to a smart home over night can cost you a lot of money, worse it could create more problems than solutions by overwhelming you with features you aren't ready for or don't necessarily need.  So, if you really want that house of the future, but you are working on a budget there are some quick tips that will get you where you want to be and save you from unnecessary spending you may come to regret.
HOME IQ
The first thing you want to do is assess your home's intelligence.  You may have some smart home essentials already and not even know it.  Your Tablet or smart phone already has the basic capabilities of connecting to other smart systems.  If you have Siri, Alexa or Google in your home, that is your starting point.  Most of the products you shop for are going to be compatible with the type of interface you currently use, which means you can start building your smart home piece by piece instead of making a huge and expensive change that you might not need.
ONE SOLUTION
There must be something in particular that you want your home to be able to do.  It could be adjusting the thermostat or more efficiently run your sprinklers.  Maybe you want to deter prowlers or keep your packages from getting stolen off of your porch.  Before you go investing in your homes tech, it's always best to start with the one problem you really need a solution for.  Bonus, if that problem is something that winds up saving you money over time.  If your heating, electric, or water bill goes down as a result of a more efficient smart home system, you can use those savings to reinvest in another important smart home feature.
PRODUCT RESEARCH
Once you know what area is most important for you to invest in, you can hone in on exactly what you want to accomplish with the system, or device.  Your focus in this matter will save you money, because you now know what to look for and will avoid being confused or distracted by less urgent features and functions.  Get a feel for the specific products that do what you want to accomplish and thoroughly check reviews and comments about those products.  It's great to save money, but buying cheap and being disappointed is not good on your budget in the long run.  Find out for yourself what product presents the best value.
PRICE HUNT
In your research you should have a basic idea of how much you can expect to pay for the product you are looking for.  This by itself is a great asset in buying on a budget, but you can aim lower.  Check sites like Ebay and Craigslist for the product you are shopping for and see what comes up.  You'd be surprised how often you can get substantial savings on a product that is brand new.  It always makes sense to check potential third party venders, particularly on a trusted website with consumer satisfaction guarantees.
CONNECT YOUR HOME LAST
By taking things slow and addressing your immediate needs first, you can amass a collection of smart home systems that you understand and are more likely to enjoy.  You can also save yourself time and money in the process, and have the confidence that you know and understand the various features and functions you've set up in your house.  After you have a fair amount of these smart features is a good time to think about connecting it all through a hub.
Some suggest starting with a hub, but when you have a smart phone or tablet, it just isn't necessary until you have enough systems to integrate.  The hub is the dream.  It's what you probably envision when you think about your ideal smart home, but it should be one of the final pieces you add to put the whole thing together.  Otherwise you are putting money into a solution you don't really need yet.  Any time you can hold off on tech you should do it, because it is ever changing and the value on what your looking for may drop, meaning it's better on your budget, or you can get something even better for about what you might have paid before.
SUCCESS!
That's the stress free, sensible and budget friendly way to get your home up to date.  Let me know if you found this helpful, or if you disagree.  If you have a smart home that you put together on a budget, how did you do it?  Thanks for reading and happy new year!
For more posts from Budget Savvy Dad visit the HUB, or find more technology articles here.