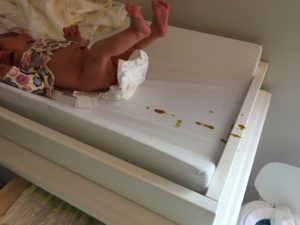 My twins Gwendolyn and Lawson are now six weeks of age and they are growing so fast.  No longer will preemie diapers fit around their chubby legs or carry the amount of poop that they now are capable of unleashing.  Changing has become a lot smoother of a task than it has been.  They don't pee during changing which was often a problem resulting in the waste of multiple diapers and thankfully the number of blow-outs is so far manageable.  If you don't know what a blow-out is in this context, just imagine what the messiest scenario involving projectile liquid poop and an ill fitting diaper.
Another fact I would like to acknowledge regarding urination during changing is that although boys spray more during urination and you do have to watch where "it" is pointing.  Girls also pee during changing and it can be very troublesome because their urine immediately pools on the table to soak anything lying in it.  Many wipes and a change of clothes are often required to stabilize these situations caused by poorly timed, or executed changing.
We go through approximately 20 diapers per day.  That's two babies who feed eight times a day and maybe need a change or two in between.  We stocked up a lot, but we did not prepare for the length of time that they would be too small for newborn diapers or how long they might remain at the newborn size.  In other words, we were totally unprepared.
Our stock-pile includes all possible sizes, but in varying volumes.  We also failed to consider that we may prefer one brand over another.  A diaper in mass quantities is not as appealing when the diaper seems to redirect squishy, smelly poop through weak spots in the diaper's design.
Diaper changes now– knock on wood– are very quick and easy.  Few incidents occur during changing and the diapers are doing a great job of keeping it all in.  I will spare you the hi res image, but I will plant a picture in your mind of the horror I encountered at midnight last night.  I don't know how Gwendolyn was still in her diaper.  When I opened it it was absolutely brimming with what I honestly imagined was the equivalent of a twelve oz can of pea soup.  It was like a full bowl, yet completely contained and not difficult to wipe off of her skin.
Diaper changes were definitely something I was anxious about before the babies were here, but I learned quickly that there is a lot you cannot control, or necessarily avoid.  The best advice is not to stress out too much about averting disaster, and instead, when disaster strikes, just take it in stride and try not to become too upset about it.  It's kind of funny and that is the approach I eventually learned to take.