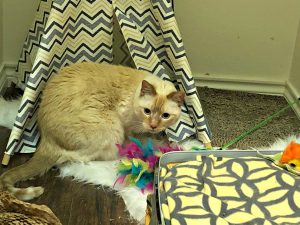 Gwendolyn and Lawson like to get around.  That's no secret.  Stressing baby boundaries has become important.  I run around closing doors constantly to make sure they don't get into things they are not supposed to.  One of those doors is the laundry room door.  That's where we also keep Watson's litter box.  Of course, Watson needs access to it so that keeps things interesting.
Watson's Food
Another fun juggling act I do is separating Watson from the twins to feed him his kibble every morning.  Gwendolyn and Lawson would love to get their hands (and mouths) on Watson's kibble. I've have caught them trying to steal his wet food on several occasions.
For this reason we now feed Watson on the kitchen island so he is safe.  He eats the kibble out of a weighted hamster shaped treat dispenser.  We can't have that on the counter, but the babies think it is a toy for them.  So, I put it in Sara's office for Watson and shut the door.  Then I have to remember to let Watson back out when he is done.  If I leave the door open for just a moment, the babies can sense it from anywhere in the house.  The stop whatever they are doing and migrate together across the threshhold.
Watson's Fortress of Solitude
My wife made a special room for Watson out of a closet under the stairs while we were expecting.  We wanted him to have a special place where he could relax without babies around.  For an added bonus we cleaned up some of the clutter in out living room.  Watson's room is where we keep his teepee, his suitcase bed, his scratch post, and some of his favorite toys.
The only problem is that we have to leave the door open to give him access.  It wasn't a problem until recently, but now his special sanctuary has been compromised.  We take it very seriously.  I don't even go in there to pick him up unless its very important.  I have spotted a couple of times Lawson managed to pull out one of Watson's toys.  This morning I encountered something much worse.
While I was washing dishes, I heard a noise that didn't sound right coming from around the corner.  When I went over to investigate, I found Gwendolyn and Lawson fully inside Watson's room and making themselves at home.  The hardest part was Watson could only sit there and watch as his home was being ransacked.
Lawson was playing with Watson's toys and Gwendolyn was getting cozy in his bed.  I didn't get a picture of this, because I had to remove them as quickly as possible.  Sara helped me detain the children and fixed up Watson's room for him.  She found Watson's favorite crinkly packing paper.  It's the kind they wrap fragile merchandise in when you buy it at Disney.  She placed that in as well and dusted the place with catnip and he settled in with caution.
Boundaries
The babies are getting used to boundaries.  I still have to tell them no a lot, but they are beginning to understand.  Sometimes I have to confine them somewhere to remove temptation, like when I am loading the dishwasher.  If that door is open they can't resist pulling themselves up on it.  They do listen when I tell them no, but that lasts only for seconds before they try again.
I let them go free as often as possible, though.  So, I was sure to keep an eye on them the rest of the day, regarding Watson's room and it seems so far that they have gotten the message.
More about Gwendolyn and Lawson: