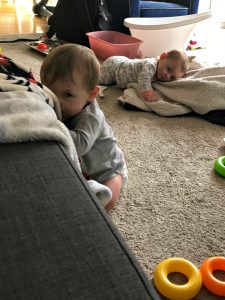 The twins are reaching nine months old.  We are fast approaching the 3/4 of a year mark for Gwendolyn and Lawson and it is a really exciting time at the Lundberg House.  It has been quite the year.  We often marvel at these little creations and reflect on how tiny they were mere months ago.  They slept all the time and fed out of tiny little bottles. I can't believe the size of their little premie diapers.
The Early Days
Before the chairs, they outgrew, and the Mamaroos.  These swaddled little bundles would need only to be woken, changed, fed and swaddled back into their bassinet.  Of course that went into the night and there was no sleep for the first couple of months.
I remember the witching hour, when we couldn't do anything between 6 and 7pm because all they would do was scream.  Sara would pump, as she still does, in the evenings and I would have to take them away so their crying didn't stress her out.  This was before they could play, so I would try reading or playing music.  Ultimately, I'd often end up holding the two of them and carrying them around the room in the dark.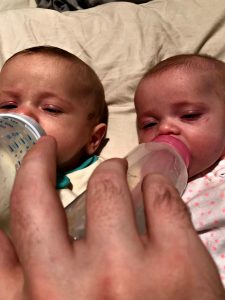 After the first few months they were up more by day and slept through the night.  Gwendolyn would still wake us up or scream at bedtime, so I would have to carry her around and lull her to sleep.  We relied heavily on special formulas and gas relief drops.  frequently she would only wake us up once a night and sometimes not at all.
From Three Months to Eight Months
I have to share our experience of Disneyland with the twins at eight months old.  Things have changed so much and so quickly.  At nine months we are well into a daily routine, but these routines change so unexpectedly as the babies grow and shift gears.  Not long ago they couldn't even crawl.  Now they are zipping all over the place and I'm sure their sudden growth has something to do with our recent visit to the park.
They sit up whenever they like and don't even use their chairs anymore.  They are even trying to stand on their own and regularly pull themselves up onto two feet.  Lawson is capable of taking steps with assistance.  They talk to each other, themselves, their toys… They are full of life and Gwendolyn especially is very interested in how things work.  Their first jump in awareness came fresh off the heals of a Disneyland trip at 3 months.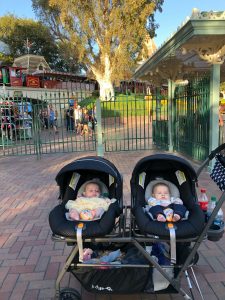 At that time, they still weren't moving or particularly engaged with their surroundings.  They sat in car seats most of the time we traveled.  On the way back from their first trip they were changed.  They interacted more and it seemed like a switch in their minds had been flicked on.  Before Disneyland, they showed little interest in toys and tummy time was their only daily activity.  Afterward they began to grab for things and react to their environment.  They were soon able to sit with assistance and they would show us when they liked something.  By eight months in both babies had gone from rolling around the floor to a full crawl.  First Lawson, then his big sister.
Disneyland Again…
At eight months, Sara had business in Anaheim and we could not turn down the chance to take the whole family down and enjoy the park for a day.  This time was far more rewarding for us and we saw recognition from the babies regarding things they had previously experienced, as well as a lot more awareness.
Our Nine Month Twins
Now, at nearly nine months, these babies are experienced.  They have IMDB pages and get regular acting and modeling gigs already.  Lawson in particular is a gifted model who knows how to turn it on when he needs to.  We did a commercial for a Mortgage company and they got what they needed right away and left.  Then they came back and asked us if we'd mind staying so they could get more.  Lawson had so much fun and the client could not have been happier. Also took another trip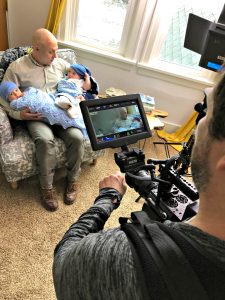 We often joke that Lawson is a three year old, because he looks like such a big boy, but Gwendolyn is starting to look less baby-like, too.  They play together and keep each other entertained a lot.  They crawl very fast now and keep their tummies off the ground.
Luckily Watson is warming up to them.  He even let Lawson touch his tail yesterday.  Lawson has teeth.  Gwendolyn says mama all the time now (much to my chagrin).  Gwendolyn has no more digestion issues and sleeps through the night.  She has been for months now.  They are both progressing so fast.  I saw Lawson trying to get up the stairs today.  What are they going to do next?