I was so excited about the Jumanji: Welcome to the Jungle.  So excited.  I really looked forward to it.  The first Jumanji and the book it was based on were favorites of mine.  I love the premise of the mystical sentient board game taking the form of a video game.  I love the cast.  It just looked really good.  Most people agree that it was pretty good if you look at the audience and critics alike on Rotten Tomatoes.  But I was so disappointed.
What Went Wrong
The movie doesn't live up to it's premise, doesn't capture the mystery and danger of Jumanji, and basically fails as a compelling narrative.  The only thing that makes the movie watchable are the performances.  Jack Black being the most exceptional and entertaining with Dwayne Johnson's reliably solid performance close behind.  This is actually quite an achievement, because the entire film felt more like an outline than a fully fleshed out script.  With forced character development/teachable moment type bullet points along the way it's a marvel that any of them managed to be as entertaining as they were without getting tedious.
The first half of the movie is drawn out and uninspired.  It was like ticking off a checklist of character traits and plot points to convey before moving on.  The second half is over too fast.  For all the set up of the first half, there was not enough substance given to the game world.  The rules of Jumanji and the game play were unclear due to lack of information and poorly or under utilized visualizations.  What you end up with is a group of characters spending some time in the jungle until a certain page count is reached and then it's time to suddenly end the game.
Why is it a Big Deal?
I don't judge movies harshly.  I pride myself on knowing what a film should be.  I'm not going to expect Journey 2 The Mysterious Island to be Lawrence of Arabia.  I would give both movies equal marks, because I think they both achieve what they set out to accomplish.  Big Transformers type blockbusters I treat a little differently, because after a certain point specticle becomes dull, passionless, white noise if it doesn't have a good story.
It also cost nothing more to have a good script vs a mediocre, or terrible one.  Actually plenty of times production companies have poured money into ruining a decent script.  Super Mario Bros. supposedly had a much better draft when the actors signed on then what ended up being on screen after several rewrites.  As a general rule you can pretty much tell a movie is going to be bad if there are more than a just two screenplay credits.  I'm not counting "story by," or "based on…" credits, but the actual people credited with writing the screenplay.  Jumanji: Welcome to the Jungle has not 2, not 3, but 4 separate people credited with the job.
The bulk of the problems with Jumanji: Welcome to the Jungle are from lazy screenwriting, which is likely due to one writer (or in this case team of writers) not fully understanding what the other writers are trying to do.  Continuity of visual devices also falters, probably an oversight of the writers who took over, definitely a failure for the production team and the director, who apparently had no vision.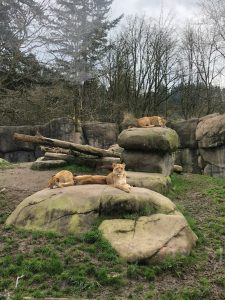 It Could Have Been Fixed
Any one point, you see dialogue boxes next to the characters at one point listing their strengths and weaknesses, but similar visual devices never again pop up, which is hard to believe.  There is no point or monetary system, no health bars (other than the tattoos, which are also inconsistent with the afore mentioned VG visual).  There is a map that is used only once in the story and completely dropped.  The levels are lacking in structure and intensity.  The only exception being the helicopter in the gorge, the only part that felt like it belonged in a game.
The most disappointing thing about Jumanji: Welcome to the Jungle is how it fails to capture gaming when there is so much inspiration to draw from.  Movies like Wreck-It-Ralph, jungle based video games like Lets Go Jungle, the sourse material of Jumanji itself, all serve as potential building blocks for an immersive, stylized, believable video game world with a clear objective, challenging obstacles and a continually developing story within the game.  As it is the movie only has a clear objective in the game, but fails to illustrate, or make particularly interesting the journey from beginning to end.
Most of all, I think what this movie needed was a gaming consultant and a better director.  Jon Favreau is a director who really cares about details.  In his movies he strives for a specific feeling in each scene that pays off time and time again.  He had a consultant on Chef who lent authenticity to the story.  That kind of attention to detail breathed life into a film pretty much devoid of any real drama.  That authenticity was the very thing that made Chef enjoyable to watch.  Jumanji needs a director like Favreau in order to thrive the way it is meant to.
Jumanji as a Video Game
It would have been awesome if pre-production had first determined what kind of video game Jumanji is.  What would the gameplay would be like?  What kind of interface would it have?  Instead we got a bland tutorial that merely provides exposition for a very weak through-line.  There should have been a lot more discovery of in-game physics and how the Jumanji world works.  This movie's jungle is far too docile compared to the danger lurking in every turn on the original.  Levels should have been more fleshed out and better connected to the main storyline as a whole.
There was no exploration of common video game staples like power ups or experience points.  There was a market; But no one buys anything throughout the game.  The characters growth and interactions seemed to occur separately from the game and not because of the game.  The game itself did not really challenge them much.  It was just a backdrop that provided more convenience than conflict.  A couple of the sequences worked, but as part of the bigger picture, they failed to bare any relevance.
Did you like this review?  Read my review of Thor: Ragnarok.