Sara and I were given tickets to experience Oktoberfest at Oaks Park this weekend and asked to to spread the word.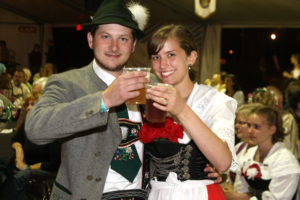 This Weekend is Oktoberfest at Oaks Park, the cutest amusement park in the world!  Celebrate with delicious Paulaner beer.  Do the chicken dance, like 10 times, and marvel at the lederhosen wearing tuba players.  Enjoy the rides like the tilt-a-whirl and reminisce about bygone days at the roller rink.  Eat sausage and rally at the weenie race.  There are tons to do at Oaks Park and this weekend is especially fun.
Oaks Park in Portland, OR is the oldest continually running amusement park in America.  There's a lot of history, rides, miniature golf, roller skating and for this weekend the most kid friendly German festival in the US.  There are lots of live entertainers and good German food that make Oktoberfest at Oaks Park Portland's premier fall festival.
It's going all weekend from 9/22 to 9/24.  Entry is only $6 for visitors 16 and up.  for more info about hours pricing and directions head over to the official Oaks Park Oktoberfest website.  There's also a complete entertainment schedule and list of fun activities.  We'll be there, will you?