I have a lot of favorite Disney movies and all of them are for different reasons, but if you are looking for powerful, or deeply moving you can't do any better than The Lion King.  Anytime I see artwork or hear the music from the movie it gives me that profound sense of gravity.  When I worked in the Animation Building at Disney's California Adventure, I would stand in that courtyard and let those massive projections of background, concept art and movie stills, and the Oscar winning music wash over me in between spiels reminding guests not to get smacked in the gob by the automatic doors to Turtle Talk With Crush.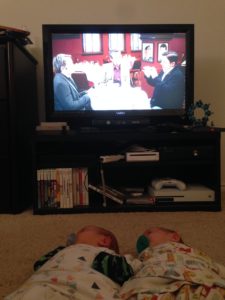 The Lion King was a surprise hit for Walt Disney Studios, who were expecting Pocahontas to be their next big success.  All the same, they poured everything into making The Lion King the achievement that it ultimately became.  The bonus features on this edition show a rare glimpse of directors actually directing a project and show just how much thought and expertise goes into a project like The Lion King.  From entertaining storyboard pitches to meetings about how to use the color palette in a scene to tell the story more effectively from shot to shot.  I really enjoyed watching the directors collaborate in the archived footage.  Matthew Broderick and Nathan Lane have a neat segment about their roles as Simba and Timon.  There is even an animated blooper real which really cracked me up.
The Lion King is loosely based on Hamlet.  It has one of Disney's best and most iconic villains, Scar.  Jeremy Irons plays the part of Simba's uncle Scar, brother to the king, who successfully has Simba's father killed and convinces Simba it is his fault and that he should run away.  Exiled, Simba lives care free with meerkat Timon and Pumbaa the warthog unaware that Scar and his hyena army have ravaged the land and left it desolate.  Guided by the spirit of his father, Simba returns home to reclaim the throne and restore the kingdom.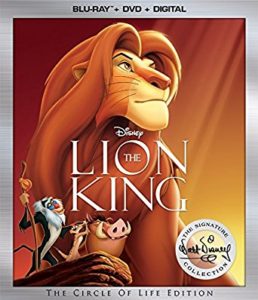 Order The Lion King Circle of Life Edition Blue-ray, now!
This film is a masterpiece and is one of the ultimate examples of a Walt Disney Pictures production.  The Lion King is one of a handful of really special Disney films that still manages to get me a little teary eyed.  The Circle of Life Edition Blue ray is an appropriate addition to the Walt Disney Signature collection alongside Bambi and Snow White and the Seven Dwarfs.  Although Walt Disney missed the making of this film by almost thirty years, It truly carries out his legacy and resembles the absolute best of Disney.