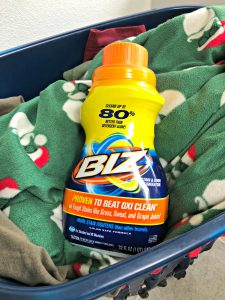 Happy Holidays everybody!  I am so excited for Christmas this year.  We had a wonderful thanksgiving meal with the family.  Gwendolyn and Lawson got to enjoy some of the food at the table with us.  Watson got in on the action, too.  We traditionally give him and extra can of food on Thanksgiving.  Of course we also shared some turkey from the table.  He loves that.  We have enjoyed a very mild November.  Although Thanksgiving Day was a little damp and dreary, we have enjoyed a longer period of sun.  With all the food and the changing weather, we've already had some messes to clean.  It's a good time to count on Biz stain fighter.
Changing Weather
We got slammed with rain and wind this week.  It's funny what a mild autumn we've had.  We have been sure to take advantage of as many beautiful and crisp sunny days as wee could, because we didn't know how long it would last.  The trees haves been retaining their leaves and the weather has been my favorite .  We've been very lucky.  However, it seems like overnight out trees have lost their leaves due to wind and rain,  There is a perpetual wetness and frequent showers of hard pounding rain.  Out yard was covered with maple leaves, and I was the sap (get it) who had to do something about it.  It was…muddy.
Holiday Cleaning with Biz Stain Fighter
Muddy clothes happen around the holidays, especially if you have kids.  Mine regularly need cleaning, kids I mean, and with all the new food filling the kitchen (cranberry sauce) there is even more mess to contend with.  part of our routine of getting ready for the holidays is the unglamorous task of doing lots of laundry to prepare.  Were need fresh sheets and towels for guests, clean pillow covers for the couch, and of course our clothes.  With all of the different tasks we need to do at this particular time of year I am glad we have Biz, because it's formulated to handle any kind of stain Sara and I, or the twins, can through at it.
Pure as Snow
My most effective tool in the laundry room is my Biz, because it's formulated to treat any kind of stain.  No matter if it's an oil based stain from a mishap at an Italian restaurant, a dirt stain from working in the yard, or cranberry sauce, Biz has the effective ingredients to break up the stain and make clothes brighter and whiter.  It's much better than using different detergents and running separate loads to get everything done.  With the extra time and freedom, we are able to enjoy more of the oncoming winter season, without worrying about getting a little dirty. Get some tips and tricks for stain removal here.