This summer the Tualatin Public Library has been giving out free kids' lunches during the week.  I can't believe we almost missed it.  Not that it would have done anything for Gwendolyn and Lawson.  It's really amazing though.  It's a real life, no-strings-attached free lunch.  They don't even ask to see your library card.  On Fridays they even have a wheel you can spin to win prizes (Sara is a sucker for prize wheels).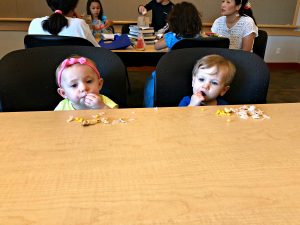 I read a library book…kind of
We went into the library by chance last Friday to pick up a new stack of books.  I also needed to return a book I foolishly checked out for myself, honestly believing I might have time to read it. Truthfully, I did have some opportunities to read in the car, so I made some use out of it.  It was about lies.  Particularly, the lies told to us with facts presented in misleading ways.  Of course this book was published before "fake news" became a punchline.  But that's essentially the message of the book, especially with regards to social media.  The gist is that people, companies, etc. use words and numbers to say what they want people to believe, and we the consumers need to be responsible for thinking critically, because they won't take responsibility for being accurate.  "But you don't have to take my word for it."
So back to the kids…
We took Gwendolyn and Lawson in on Friday to pick out some new bedtime stories to read and we saw the sign for free lunch.  We were pretty close to the posted time but we didn't really consider it at first.  We checked out about 11 books and on the way out it really was time for them to start letting families in for the food.  We asked somebody if the lunch applied to 13 month olds and they said sure, so we gave it a shot.  They had turkey sandwiches with watermelon, corn and milk.
We took one lunch for them to split and we actually sat them down in regular chairs at one of the tables.  We sat and watched and took plenty of pictures as both of our children ate their portions.  John Williams scores filled the room as all the kids ate.
I was so proud and excited, especially that Lawson was eating.  He had an appointment with a therapist that we cancelled last minute because of a scheduling conflict.  We wouldn't have done that except Lawson as begun to make great strides forward in what he will eat.  He has only gotten better since then.  He sometimes even finishes his food before his sister.  And they have both become fairly clean eaters as well.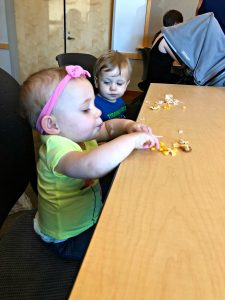 They didn't take a whole sandwich between the two of them.  Mama had to sneak it out and finish it in the car, but they did so great.  Gwendolyn loved the watermelon and they both enjoyed the corn.  We got to help them spin the wheel and they each got prizes.  Lawson got a crown and Gwendolyn got a fairy wand.