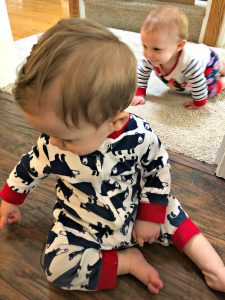 Gwendolyn and Lawson are officially one year old.  It has been one crazy ride for me as a first time parent.  I hardly can remember life without kids.  They are so big now.  So many changes hav happened over the last month.
Growing Twins
These babies are so close to walking.  They stand up on their own all the time.  Gwendolyn has some weird new thing where she pushes chairs around the kitchen.  They are playing together a lot more and seem to be communicating with their babble.
Solid food is no problem for Gwendolyn.  She eats bread and pasta, now.  Lawson does not put those things in his mouth, but he is better at drinking water through a straw than his sister is.  Gwendolyn can suck it up, but then just dribbles it out.
It's great taking them to restaurants and having them sit in the high chair and actually have food.  At home they are constantly amusing themselves an I have to keep close watch on them or they tend to be destructive and sometimes get themselves into trouble.  Lawson is starting to figure out our "baby proof" cupboards and drawers.
Working
Both babies are getting regular gigs to add to their resumes.  They make me so proud when they show up on set and kill it.  They do modeling and acting and both of them have had really great experiences.  Lawson had a really good day on a shoot for a mortgage commercial.  Gwendolyn was in a short film that I recently had the privilege of watching.  The film came out great, and I was really proud of both of my kids contributions to their various projects.  The crew always loves them, too.
Both have done shoots in Carters clothing recently for Fred Meyer, which is exciting.  It's great to see how they are handling these jobs as they grow.  I'm excited to see where it leads and if either one of them will decide to stay with it.  So far, they really seem to love the attention.
Fun with my kids
I have really been enjoying getting to have more fun with my kids.  They are very playful and I have had more time to spend with them lately as my schedule has become more efficient and predictable.  The last trip we took really brought more out of their personalities and it's great that they are showing their unique character traits.
My favorite times of day are when I play with them in the morning, before cleaning their bottles and resuming our daily routine, and then playing again when I am done with my writing for the day.  The look on their face and the way they come right to me is priceless.  I'm so excited for the next year and the next changes to come and I'm so happy I get to be there for them all.