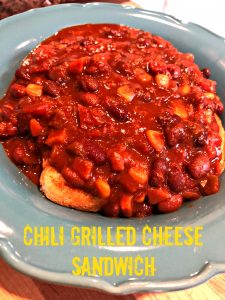 Every once in a while I go into the kitchen and try to cook.  Sometimes it comes out really good.  Other times the food is tolerable at best.  I love food, but I don't love to cook.  When I put my cooking theories into action, the outcome is unpredictable to say the least.  Still, sometimes I create something that I'm proud of.  I call it a Dad Recipe, and this one is every bit as good as it sounds: The Chili Grilled Cheese Sandwich.
WHY MAKE A CHILI GRILLED CHEESE SANDWICH?
Why not?  Well, the idea came simply enough.  I wanted something to go with my chili and we were out of rice and pasta.  I also usually put shredded cheese on top of the chili, but we only had slices.  Suddenly, in a moment of unparalleled genius, I came up with the Chili Grilled Cheese Sandwich.  After all, if there is one thing I've mastered in the kitchen, it is how to make grilled cheese.  In theory it would come out a lot like a chili cheese dog, but without the dog.
I did have to make a slight adjustment to my typical style of making grilled cheese, to get the right texture from the chili, but when I cut into the bowl with my fork that first time and saw that gooey cheese gushing out…it was like striking gold.
HOW TO MAKE A CHILI GRILLED CHEESE SANDWICH
The chili was a canned chili.  The homemade stuff is better, but that requires a lot of slow cooking.  If I'm fixing something in the kitchen it means the prepared stuff is all gone and I'm in survivor mode.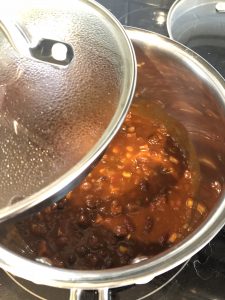 So, pull your favorite canned chili from the bomb shelter, or pantry, or whatever and cook it in a saucepan over medium/high heat.  I like to bring it to a bubble and give it a couple of stirs before I reduce it to a low simmer and put the lid on it for a while.  I basically leave it in there as long as I want to, but about 15 minutes is a good amount of time to get the flavors to mix and the consistency just right.
Once you have the lid on you can move on to the grilled cheese.  Pull out the cheese and bread and put a pan on another burner on medium heat.  The sandwich should have two slices of cheese and two slices of bread..  Normally I would spread butter evenly on both pieces of bread, but we only had the bocks of butter and I hate trying to spread that stuff.  I know some people keep their butter at room temperature, but we keep ours in the refrigerator to make sure it is unusable.  I'm kidding, of course, but it was my impatience that led me to the next trick of this sandwich.
THE TRICK…
If I made a typical grilled cheese sandwich, the bread would not mix right with the chili the way a hotdog bun would.  I needed a dryer cook on it, but I wanted to maintain that light and toasty golden brown seer.  I accomplished this by spraying cooking oil on the pan and placing the sandwich down in it.  Then I sprayed the top piece of bread as well.  Give it about two minutes on each side and watch for the cheese to melt.
When the sandwich is done, place it in a bowl and immediately rinse the pan, wiping it down with a paper towel.  turn off the heat and place the pan on a back burner to cool.  Turn off the heat on the chili, give it a stir and pour it over the top of the sandwich.  While it cools, rinse out the saucepan and give it a quick scrub with a soapy sponge.  Rinse, dry.  place on a back burner to cool, and sit down to enjoy your awesome meal.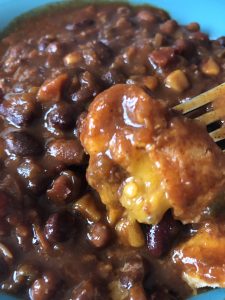 I hope you liked this Dad Recipe.  If you try it, let me know what you think.